Loading...
Heeding God's Call: A Gathering for Peace
"Christian peacemakers from 23 traditions, together with Jewish and Muslim observer/participants, met January 13-17, 2009, in the historic Arch Street Friends Meetinghouse in Philadelphia, at the invitation of the Historic Peace Churches.
"We have heard the proclamation: This is the year of the Lord's favor! (Luke 4:19; Isaiah 61:2) And we believe this is indeed a time when peace can happen. We invite all people everywhere to heed this radical call on our lives."
Thus began Heeding God's Call to Make Peace: A New Beginning. The mission statement for the Gathering declared that the purpose was "to strengthen our witness and work for peace in the world by inspiring hope, raising voices, taking action."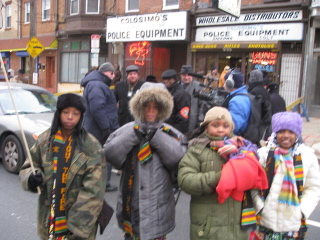 One step of this New Beginning was the January 17, 2009 Witness on Gun Violence. Witnesses attended workshops at various locations throughout Philadelphia and a protest march against gun sales to "straw" buyers. You can view full size photos of the workshops held at the Green Street Friends Meetinghouse in an album provided by friend and meeting clerk Sharon Mullally.
Nine months of protests resulted in Federal indictments and the closing of Colosimo's Gun Center
That was just the beginning.
Heeding God's Call is urging gun dealers to sign a 10-point pledge calling for shops to be more vigilant in spotting "straw purchasers" who buy guys in bulk for resale to criminals.
On February 20, 2010, Rev. Fred Kauffman from the Mennonite Central Committee and 40 others began a weekly vigil at the Shooter Shop, Allegheny Ave and Emerald St in Kensington, Philadelphia. A 2004 study of 80,000 registered gun dealers identified 120 gun dealers in the USA who each sold 200 or more guns later traced to crimes. 208 guns were traced to the Shooter Shop. According to the Federal Bureau on Alcohol, Tobacco, and Firearms (the ATF), this is a strong indicator that the Shooter Shop is a source for illegal gun trafficking.